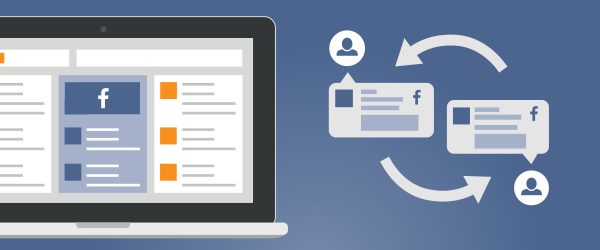 Posting interesting content consistently on your brand's Facebook Page is an essential part of engaging with your audience, but your efforts shouldn't stop there. High-quality content inspires discussion, and you should be ready to respond to your followers when they leave a comment or question.
Monitoring conversations happening on Facebook will help you establish those meaningful connections that turn customers into brand advocates. Whether you're answering a customer's question posted on your Timeline or responding to a comment, these interactions are most effective when they happen in real time—and Hootsuite's latest addition of Facebook updates help you do just that.
Here are a few ways you can engage with your audience in a timely manner by keeping tabs on your Facebook Page engagement, as well as Hootsuite's newest feature for monitoring other Facebook Pages.
4 ways to engage your audience on Facebook
1. Monitor all incoming posts and messages
There are a number of ways customers can reach out to you on Facebook: a post to your Page, a private message, or a comment on your posts. To maximize the benefits of your brand's presence on Facebook, you should keep an eye out for every possible point of contact.
In Hootsuite, you can now add My Posts as well as Posts to Page streams to stay on top of all your Page activity. This way, keeping track of posts to your Facebook Page helps you cut down response times when a customer or fan reaches out directly.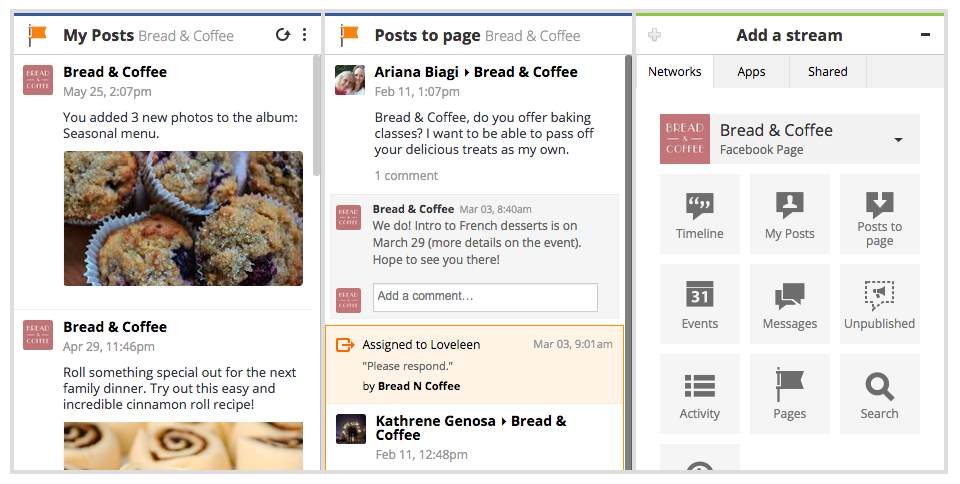 2. Keep track of the latest comments on your Page's posts
After recent changes to Facebook's algorithm, your business is likely investing more time into your content marketing strategy to increase reach. But your brand's Facebook presence isn't limited to curating and scheduling content—you also need to monitor interactions on that post, and respond to any questions. Since many people take to social media in search of customer service, you may see questions unrelated to the posted content. Take time to respond to these nonetheless: it's important that your customers know their efforts to reach you are noticed.
However, even if the comment doesn't contain a request for support, make an effort to connect with the person who left it. If you schedule your Facebook posts with Hootsuite, that should leave you plenty of time to connect with your audience in the comments.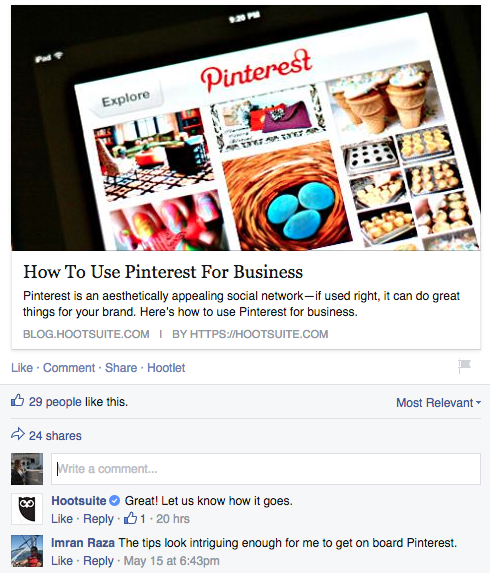 In Hootsuite, you can add the Activity Stream to your dashboard in order to monitor all the incoming comments. This feature allows you to see all your recent comments, even if the original post is months old. This way, you can increase visibility of older content, and make sure you provide a response to every user who takes time to reach out on Facebook.

3. Manage comments on Unpublished posts
Unpublished posts on Facebook present a great opportunity to expand your existing audience on the network. These are posts created for advertising purposes and published outside of your Facebook Page; the "dark" or unpublished aspect stems from the fact that they don't show up on your Page or Timeline.
However, since these are still public-facing assets, it's important to have an efficient way of managing any conversations happening on an unpublished post. Businesses can currently do this by viewing their unpublished posts in Facebook's Power Editor—which can be a lengthy multiple-step process. Save time and take advantage of the Unpublished Page Posts Stream, which makes it simple to see all the latest conversations in one place. Check in on your Unpublished Page Posts and find out how many times they have been shared, liked, or commented on, and easily respond to comments when they come up.

4. Make Facebook engagement a team effort
For businesses of any size, it can be difficult to give every user comment a timely response. However, short reaction times are the expectation in today's market, and a recent survey found that nearly 30% of customers visit the company's Facebook Page to voice concerns. Thus, it's crucial that you work out a system that allows you to focus on conversations in a timely manner.
Hootsuite Assignments allows you to stay on top of conversations and tackle multiple interactions as a team. Users on the Pro and Enterprise plans can take advantage of Assignments to determine which team member is best suited to respond to comments on your Facebook Page. And now, you can zero in on the individual comments on your Facebook posts that need attention, and flag them to be resolved by one of your team members.
How to stay on top of other Facebook Pages
While monitoring the conversation on your Page is core to your Facebook engagement strategy, it's also important to keep a pulse of what's happening outside of your Page—whether that includes following competitor news, or viewing updates from your favourite brands, influencers, or publications. This could also spark new content ideas and allow you to repurpose emerging trends relevant to your industry.
Hootsuite's newest Facebook Page Search feature makes it easy to follow and monitor other Facebook Pages. By adding a dedicated Facebook Page stream, you can view any Facebook Page's public posts, and like or comment on them. And if you see content that resonates with your brand voice, you can bring that post to your team's attention by assigning it in-stream.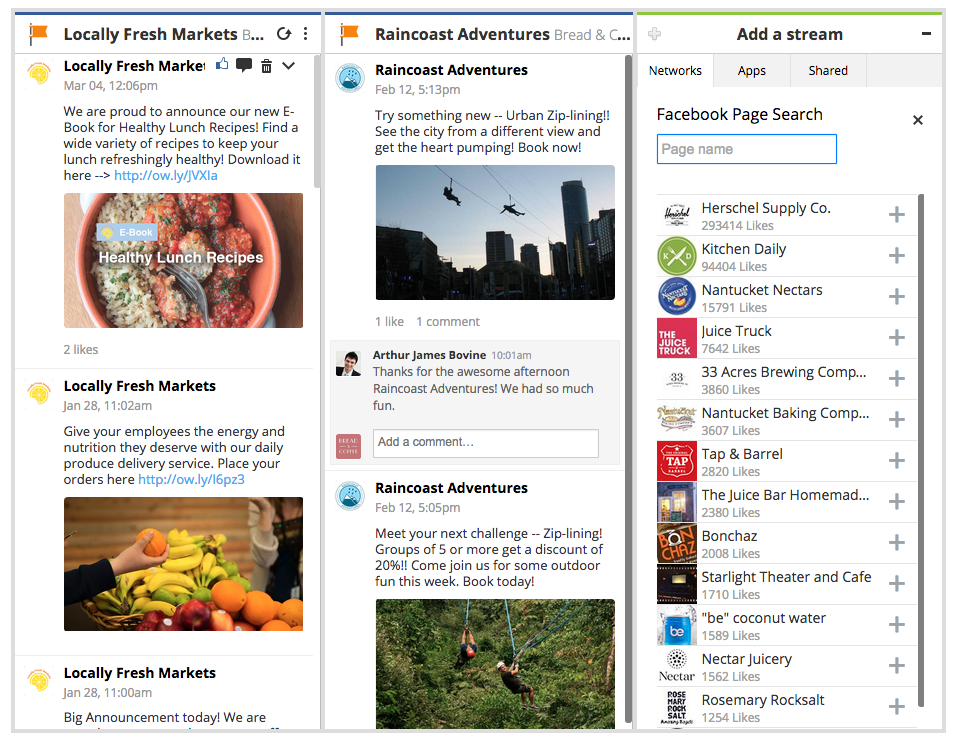 Never miss a chance to engage with your customer—try these Facebook features out in the Hootsuite dashboard today.